Narragansett is fortunate to have miles of shoreline, wonderful beaches, beautiful rocky shorelines and a picturesque harbor. It is also a popular tourist destination. Whether you are a local or a tourist, beautiful natural areas can also be dangerous. Along the rocky sections, the rising and falling tides keep the rocks wet and algae grows, making them very slippery, then if you do slip into the water, the waves crashing against the rocks make it nearly impossible to get out safely. So it is best to avoid any wet rocks near the water. After storms, waves can be higher than normal and there can be rouge waves which are very high. On a personal note, after storm Sandy had passed, my wife and I stopped by at Newton Ave to see the waves. We were standing just in from the end of the street, about 35 ft above sea level, when a rouge wave came in from our right and came all the way up to where we were standing. Fortunately, it was all foam and had no energy, it just soaked us.
The Narragansett Police provided the following information on water related deaths in Narragansett over the last 15 years.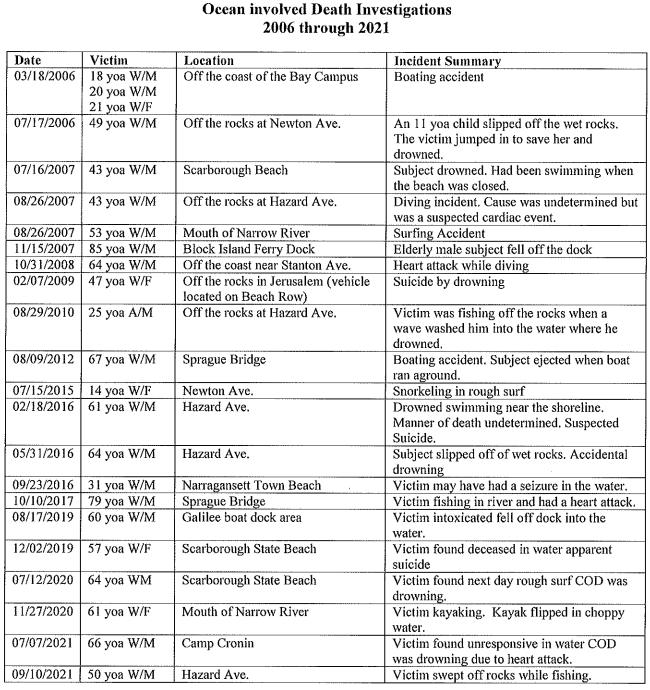 We have been informed by a reader of 2 more deaths that are not on the list. On 9/28/2008 at Black Point, a lady from Providence slipped and fell in the water. Her husband tried to rescue her but both people died. The recovery was done by the Coast Guard so that may be why they did not show up on the police records.